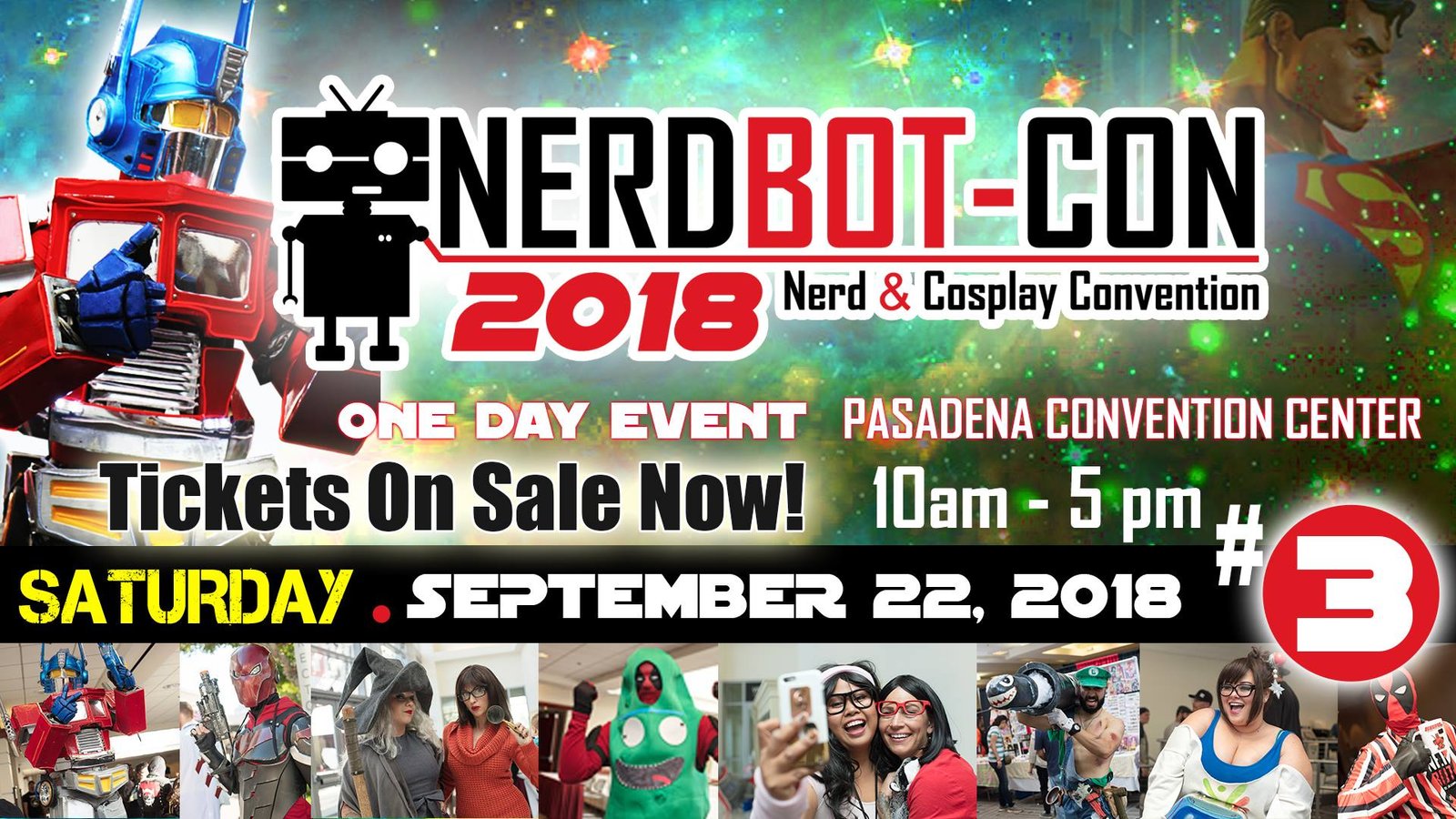 Nerdbot-Con 2018 Nerd & Cosplay Convention
WELCOME TO NERDBOT-CON 2018!
This will be our 3rd annual NERDBOT-CON at the Pasadena Convention Center
We had an amazing time at our last NERDBOT-CON! Thanks to all of you amazing Nerds, Cosplayers, Gamers, Musicians, Super Hero Families, Photographers and Guests that showed your support.
In 2018 we are going to go bigger and better with more activities, more vendors, more music, more guests, more games and awesome panels.
We are your alternative to huge, faceless and expensive conventions with long lines that steal your soul and your wallet!. We are centrally located in the heart of beautiful Pasadena, California.
We also pride ourselves on being a safe and family friendly enviormently.
All children under 12 years old are FREE with Adult Supervision. 2 children may enter with each adult. The adult must have a purchased ticket to enter.
Over 130 Vendors
Cosplay Contests
Incredible Cosplay Guests
Nerd Karaoke
Nerf Gun Zombie Shoot Out!
Live Music
Photo Meet Ups
Cosplay Panels
Give Aways
MUCH MUCH MORE!!!
Celebrity Guest so far…
Rikishi
Wrestler, WWE Hall Of Famer
Gigi Edgley
Chiana in Farscape and host of Jim Henson's Creature Shop Challenge
Rikki Simons
Voice of GIR in the Nickelodeon animated series, Invader Zim
Daron Nefcy
Creator, writer and executive producer of Disney's Star vs. the Forces of Evil
Gregg Berger
Voice of Grimlock, Skyfire and Long Haul on the original Transformers cartoon and movie
Stephen Lunsford
CW's Kamen Rider: Dragon Knight, MTV's Teen Wolf as Matt Daehler and Dink from ABC's Private Practice
Tracy Lynn Cruz
Ashley Hammond the Yellow Ranger in Power Rangers Turbo II and Power Rangers In Space
Stephen Costantino
Gamorrean Guard in Star Wars: Return Of The Jedi
Suzie Plakson
Star Trek: The Next Generation as K'Ehleyr (Mother of Worfs son), Star Trek Voyager as Female Q
Eric Bauza
Voice of Tiger Claw in Teenage Mutant Ninja Turtles, Splinter in Rise of the Teenage Mutant Ninja Turtles and the Beagle Boys in the new Disney Duck Tales
Brennan Mejia
The Red Ranger on Power Rangers Dino Charge
Bryan Newton
Director of Rick and Morty (including the Meeseeks and Destroy episode), The Adventures of Ninja Cowboy and Teen Titans Go!
Jack Guzman
The Black Ranger in Power Rangers: Wild Force
Michele Louise Specht
Katie in the VH1 series I Hate My 30's and Doctor McKennah in Star Trek Continues
Dave Stone
Director and storyboard artist. His most famous shows are Teen Titans Go!, Nickelodeon's Breadwinners, Fosters Home For Imaginary Friends, and worked on the pilots for Star Vs. The Forces of Evil, 7 D, and Fish Hooks
Panel Schedule:
Panel Room A
10:30 – 11:15– Live Interactive Karaoke Panel with Lemar Harris.
11:30 – 12:15: Marvel Cosplay: Mastering The Character
12:30 – 1:15: Star Trek vs Star Wars Debate
1:30 – 2:15: For The Love of TMNT Panel
2:30 – 3:15 – Reverse Flash: Origins Panel
3:30 – 4:15 – Showing Your Voice, Voice Over Panel
Panel Room B
10:15 – 10:45 – Cosplay Is NOT Consent Interactive Panel
11:00 – 11:30 – ONE FOR ALL: Be A Real Hero Panel
11:45 – 12:45 – How Cartoons Are Made
1:00 – 2:00–Teen Titans Go To A Panel
2:15 – 3:00–Kids Can Cosplay: Using Cosplay For Charity
3:15 – 4:00–Mental Health In The Nerd Community
MORE DETAILS AS WE GET CLOSER TO THE EVENT!!!
Nerdbot Media has been organizing great meet ups and night events in the Los Angeles area for the past 3 years.
We've also been attending and covering conventions for years now. We think it's time for something different. We want to make it fun and interactive for all attendees, Cosplayers, photographers, collectors and all Nerds and geeks that want to have an AWESOME time.
Our mission is to bring the very best photographers, videographers, vendors and awesome Nerds to the beautiful Pasadena Convention Center. It's going to be an amazing day of interactive contests, panels, Cosplay contests and photoshoots.
Are you ready to spend a great day at NERDBOT-CON 2018?
Prop and Weapons Policy:
No functional props or real weapons are allowed at Nerdbot-Con. All Cosplay / costume props and weapons need to go through weapons check located at the front entrance. They will be inspected and tagged as CHECKED. Blasters, Lightsabers and common place props are allowed. Please use common sense. If the props are at all dangerous to the public, you will not be allowed to bring it inside the center.
We'll see you there!