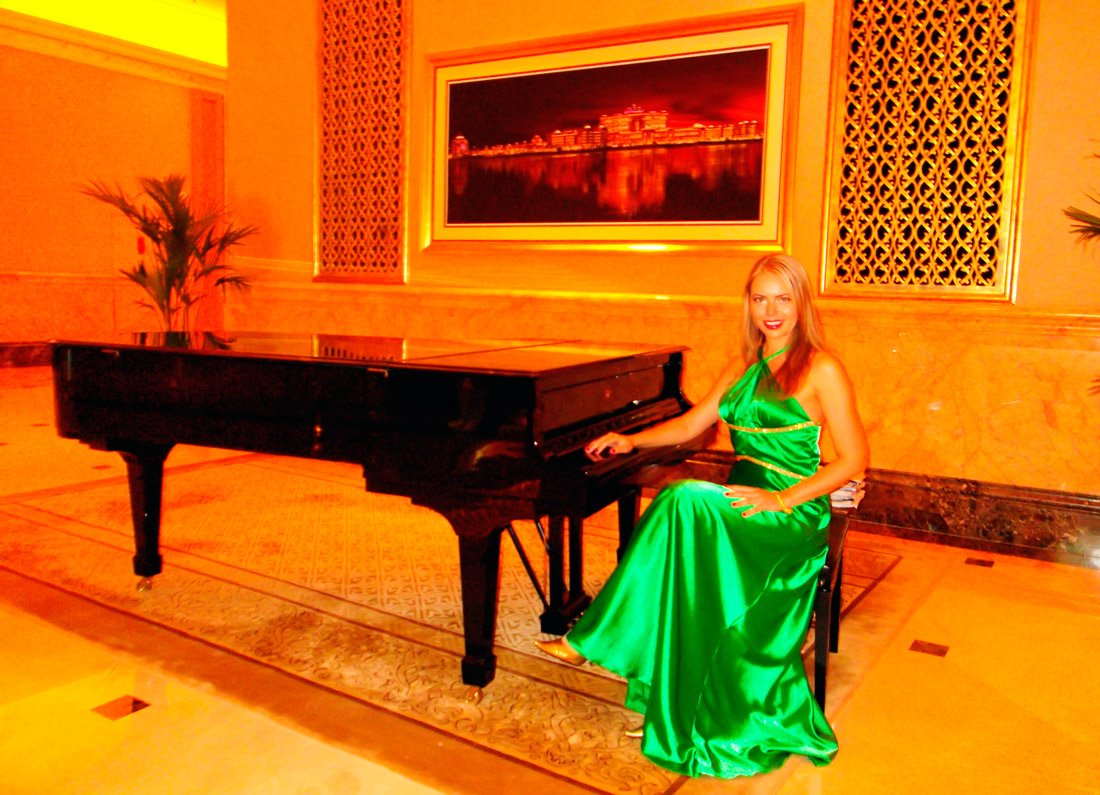 Ganna's performances at Beach Rotana and Emirates Palace Kempinski, Abu Dhabi 2011 – 2013
From the interview with Viktoria Gorelova
Ganna as a guest pianist in hotels…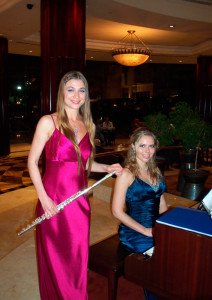 Performances at Beach Rotana and Emirates Palace Kempinski, Abu Dhabi 2011 – 2013.
Probably, it would be advisable to mention that Ganna has performed as a concert pianist for three years, while living in Emirates. Her duo with flautist Elena Chebotar (Kharkov) has many times been invited to perform in such exclusive hotels as the Beach Rotana and Emirates Palace. These two young entertainers gave a good account of themselves, presenting music from all over the world to hotel guests. Walk now on the marble floors of the grandiose Emirates Palace Hotel built for former Emirates president Sheikh Zayed and you can hear in the distance the sounds of the grand piano Ganna has performed on.
I spent so much time in that hotel, I practically lived there, the Emirates Palace was one of my homes…
Ganna Sorbat 
– Ganna, while you were working at the Emirates Palace I understand you had the opportunity to enjoy some magnificent concerts during the Abu Dhabi Festival held in the Auditorium of the hotel. Is that true?
– During the time I was working at the Emirates Palace I was fortunate to meet a lot of celebrities and great musicians and artists, who were performing in the Auditorium. There I heard the wonderful tenor Placido Domingo, the charming violin playing of Joshua Bell, the magic of Tchaikovsky's music performed by the orchestra of the Venezuelan Gustavo Dudamel, the unforgettable voice of Natalie Cole and the magnificent Mariinsky Ballet Company.
– Please could you tell us about any special occasion from your reminiscences?
– One bright morning in October 2012 we were playing the famous jazz standard "Wave" in the lobby of the Emirates Palace. The actor Richard Gere was passing by and said "Hi!" Our heads were spinning for a long time after that. A lot of film stars were staying at the Emirates Palace then, during the film festival.
I spent so much time in that hotel, I practically lived there, the Emirates Palace was one of my homes…
Text: Viktoria Gorelova
25/02/2014